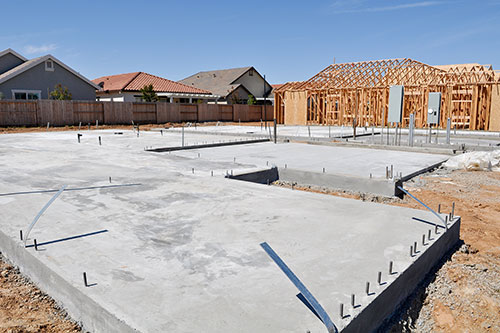 The tell-tale signs of foundation problems have begun to appear – you're seeing symptoms including drywall cracks, doors and windows that do not open or close properly, foundation wall cracks, cracked floor slabs or brick and mortar veneer cracks, you should contact a reputable foundation repair expert.
The experts at B.L. Bennett Construction can provide you with a thorough, comprehensive consultation, a clear outline of the steps needed to correct your problems and answers to all your foundation repair questions.
Not all foundation damage takes long periods of time to develop and become serious. Damage to your commercial or home foundation can develop immediately following construction or may occur years later. The key to when and how the damage takes place is the naturally occurring changes within the soils that surround and support your foundation.
Damage can be caused by changes in soil moisture content, weak native clay, difficulties with concrete or poor compaction of fill soils, among other things. The experts at B.L. Bennett Construction can assess the damage and determine the cause or causes of your foundation problems. We offer permanent solutions to get your foundation back on solid ground.
We only use proven stabilization products and methods at B.L. Bennett Construction. When you work with us, you know that your foundation has been permanently restored to a completely safe and structurally sound state.
Our contractors use galvanized steel in their foundation repair products. According to test data provided by The Journal of Light Construction, this material should last 75 years or more in moderate to highly corrosive soils, and should last for hundreds of years in less corrosive soils.
The foundation repair systems offered by B.L. Bennett Construction are all manufactured to the highest standards and offer significant benefits over other providers. Some of the benefits of these premier systems include:
Year-round installation – no need to wait until warmer weather for necessary repairs!
Corrosion resistant for a long life span.
Warranty against additional settlement.
Property value is restored.
Each of the foundation repair products we use complies fully with the highest standards in our industry. Each has been tried and tested by over 100 major structural repair contractors throughout North America.
These installations have been designed to last, and come with a manufacturer's warranty as well as our own in-house warranty. This double protection is invaluable when protecting the resale value of your home.
To learn more about how we use these products to provide a long-lasting, secure solution your foundation concerns, call or e-mail us today! We'll introduce you to one of our experts, who will schedule a free foundation evaluation and provide a repair quote at a time that works for you. We want to make this important process as convenient as possible!